Appleton's Cyclopedia of American Biography, edited by James Grant Wilson, John Fiske and Stanley L. Klos. Six volumes, New York: D. Appleton and Company, 1887-1889 and 1999. Virtualology.com warns that these 19th Century biographies contain errors and bias. We rely on volunteers to edit the historic biographies on a continual basis. If you would like to edit this biography please submit a rewritten biography in text form . If acceptable, the new biography will be published above the 19th Century Appleton's Cyclopedia Biography citing the volunteer editor
Virtual American Biographies
Over 30,000 personalities with thousands of 19th Century illustrations, signatures, and exceptional life stories. Virtualology.com welcomes editing and additions to the biographies. To become this site's editor or a contributor Click Here or e-mail Virtualology here.
A
B
C
D
E
F
G
H
I
J
K
L
M
N
O
P
Q
R
S
T
U
V
W
X
Y
Z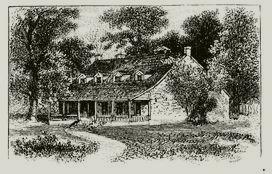 Click on an image to view full-sized
Thomas Fairfax
FAIRFAX, Thomas, sixth baron, born in England in 1691 ; died in Greenway court, Virginia, in 1782. His family was a very old one. During the wars of the Roses, his ancestor, Sir Guy Fairfax, head of a younger branch of the family, became lord chief justice of England. Charles I. as Baron Fairfax, of Cameron, raised his great-grandson, Thomas, to the peerage. Thomas's brother, Edward Fairfax, was well known for his translation of the great poem of Tasso; his grandson, Thomas Fairfax, third Lord Fairfax, was commander-in-chief of the parliamentary forces in the rebellion against Charles I. His cousin, Henry Fairfax, whose sons were Thomas Fairfax, fifth Lord Fairfax, and Henry Fairfax succeeded the great general in the baronetcy. Thomas married Catherine, daughter of Lord Culpepper, and thus acquired the title to vast estates in the northern neck of Virginia, and also in the Shenandoah Valley.
Their son, Thomas Fairfax, was educated at Oxford, enjoyed the reputation of a man of wit and letters, and was in early life a contributor to the "Spectator." When he became sixth Lord Fairfax, he sent his cousin, Sir William, son of Henry, to take charge of the Virginia estates. Sir William's daughter, Anne, married Lawrence, elder brother of George Washington. In 1739, Thomas came himself to Virginia. Remaining about a year, he returned to England, when, on account of an alleged disappointment in love, he closed his affairs in England and came a second time to his Virginia estate in 1745. His inherited domain embraced all that section lying between the Potomac and Rappahannock, comprising the twenty-one counties of Lancaster, Northumberland, Richmond, Westmoreland, Stafford, King George, Prince William, Fairfax, Loudoun, Fauquier, Culpeper, Clark, Madison, Page, Shenandoah, Hardy, Hampshire, Morgan, Berkely, Jefferson, and Frederick. The area was 5,282,000 acres, and formed nearly one quarter of the commonwealth of Virginia.
Lord Fairfax lived for several years with Sir William at Belvoir, and thus in 1748 he made the acquaintance of George Washington, then a youth of sixteen, and, impressed with his energy and talents, employed him to survey his lands lying west of the Blue Ridge. This was the beginning of an intimacy between Fairfax and Washington, which survived all differences of opinion on political subjects, and terminated only with the death of the former. So favorable was the report of Washington, that his employer soon afterward took up his residence at Greenway court (see illustration), in the midst of a manor of 10,000 acres, about twelve miles from Winchester, where he resided during the remainder of his life. Here he laid out a farm, and put it under a high state of cultivation. He was very fond of hunting. He was indulgent to all who held lands tinder him and around him, kind to the poor, and allowed them a large part of the surplus produce of his estate.
During the panic on the Virginian frontier after the defeat of Braddock, Fairfax organized a troop of horse, and, as lord-lieutenant of Frederick County, called out the local militia. Although a pronounced loyalist, his hospitality and noble qualities caused him to be held in so much esteem and veneration that during the entire Revolutionary war he was never insulted or molested, and his property was equally respected by Americans and British. The great wealth in the immense clay deposits in that section of Virginia being unavailable, Lord Fairfax had brought from England the brick used for the erection of Christ Church. Alexandria, the Church at Falls Church Corners, and the hotel in Alexandria where Washington had his headquarters.
He was a friend and patron of Washington's early life, and saw, with the most intense anguish, that the widow's son, who surveyed his lands, was destined to be the great instrument for dismembering the British empire. The surrender at Yorktown deeply wounded his national pride, and, according to tradition, was the immediate cause of his death, which happened soon afterward.
He was a dark, swarthy man, more than six feet in height, of large frame, and extraordinary strength. His remains were deposited under the communion table of the Episcopal Church in Winchester, but were removed in 1833, and the old Church was torn down to make way for the erection of a pile of buildings. He never married, and his extensive domain descended to his only surviving brother, Robert Fairfax, who became the seventh Lord Fairfax, but, as the estate was in the possession of Thomas during the Revolution, it was confiscated.
--George William Fairfax, born in England" died in Bath, England, 3 April, 1787, was the son of Thomas's first cousin, Colonel Sir William Fairfax, lieutenant of the County of Fairfax, and member and president of the council in Virginia. He was educated in England, and, coming to Virginia in early manhood, became quickly identified with the country. He was the early companion of Washington and his associate as surveyor of lands. Some property in Yorkshire having descended to him in 1773, he went to England, and, in consequence of the political troubles that followed, did not return to America. During the war he evinced much kindness to American prisoners who were carried to England. A part of his Virginia estate was confiscated, by which his income was much reduced. In making his will, he named Washington as his executor, but the office was declined on account of the pressure of public engagements. He left no children, and bequeathed his property to Ferdinando Fairfax, the second son of his only surviving brother, Bryan, or Brian.
--His brother, Bryan Fairfax, eighth baron Fairfax, born about 1730; died in Monteagle, Virginia, in August, 1802, was the third son of Sir William Fairfax, and a life-long friend of Washington, notwithstanding their political differences. In 1789 he became an Episcopal clergyman, and presently took charge of the parish at Alexandria, Virginia On Robert's death in 1793, the title to the Scottish peerage descended to him, and the House of Lords recognized his claim as valid in 1800, but he never asserted it.
--His son, Thomas Fairfax, sometimes called ninth Lord Fairfax, born in 1762, died at Vaucluse, Fairfax County, Virginia, 21 April 1846, lived on his Potomac estates. He married Miss Cary. Thomas's eldest son, ALBERT, died during the lifetime of his father.
--Albert's son, Charles Snowden Fairfax, born in Vaucluse, 8 March, 1829; died in Baltimore, 7 April, 1869, was speaker of the California House of Representatives in 1854, and clerk of the Supreme Court of that state from 1857 till 1862. He was chairman of the California delegation to the Democratic national convention held in New York in July 1868.
--Another son, John Contee Fairfax, eleventh representative of the title, born 13 September 1830, is a physician, residing at Northampton, Prince George County, Maryland
--Bryan's great-grandson, Donald McNeill Fairfax, naval officer, born in Virginia. 10 August 1822, became a midshipman, 12 August 1837, served under Dupont on the west coast of Mexico and California during the Mexican war, and was at the capture of several towns. He was promoted to a lieutenancy, 26 February, 1851, made commander, 16 July, 1862, and served on the "Cayuga," .of the west gulf squadron, from June, 1862, till February, 1863, under Farragut, when he was transferred to the command of the steamers "Nantucket" and "Montauk." of the South Atlantic squadron, in which he made Several attacks on the defenses of Charleston harbor, under Dupont and Dahlgren. In 1864-'5 he was in command of the naval academy, promoted to a captaincy, 25 July, 1866, served on the flag-ship '" Rhode Island," in the North Atlantic squadron, in 1866-'7, and on the steam sloop " Susquehanna" in 1867-'8. He was advanced to the rank of commodore, 24 August 1873, and made rear admiral, 11 July 1880. Admiral Fairfax was in service forty-eight years and five months; of this time, twenty years and four months were spent at sea, his last cruise terminating in 1868. See "Magazine of American History," vol. xiii., pp. 217-236.
Edited Appletons Encyclopedia, Copyright © 2001 VirtualologyTM

Unauthorized Site: This site and its contents are not affiliated, connected, associated with or authorized by the individual, family, friends, or trademarked entities utilizing any part or the subject's entire name. Any official or affiliated sites that are related to this subject will be hyper linked below upon submission and Evisum, Inc. review.
Copyright© 2000 by Evisum Inc.TM. All rights reserved.
Evisum Inc.TM Privacy Policy