Appleton's Cyclopedia of American Biography, edited by James Grant Wilson, John Fiske and Stanley L. Klos. Six volumes, New York: D. Appleton and Company, 1887-1889 and 1999. Virtualology.com warns that these 19th Century biographies contain errors and bias. We rely on volunteers to edit the historic biographies on a continual basis. If you would like to edit this biography please submit a rewritten biography in text form . If acceptable, the new biography will be published above the 19th Century Appleton's Cyclopedia Biography citing the volunteer editor
Virtual American Biographies
Over 30,000 personalities with thousands of 19th Century illustrations, signatures, and exceptional life stories. Virtualology.com welcomes editing and additions to the biographies. To become this site's editor or a contributor Click Here or e-mail Virtualology here.
A
B
C
D
E
F
G
H
I
J
K
L
M
N
O
P
Q
R
S
T
U
V
W
X
Y
Z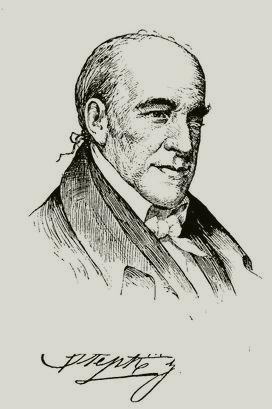 Click on an image to view full-sized
Stephen Girard
GIRARD, Stephen, philanthropist, born near Bordeaux, France, 24 May, 1750; died in Philadelphia, Pennsylvania, 26 December 1831. He was the son of a sea-captain, and at an early age, with limited education, sailed as a cabin-boy to the West Indies, and thence to New York. Having gained his employer's confidence, he became mate, and then captain, of a small vessel, made several voyages to New Orleans, and was soon part owner of the ship. In 1769 he had established himself in trade in Philadelphia, and was alternately shipmaster and merchant till the Revolutionary war put a stop to his enterprises. He then opened a small grocery-store and eider-bottling establishment, and in 1777-'9 gained some money by selling liquor to the soldiers of the continental army. He returned to the West India trade in 1780, and in 1782 laid the foundation of his fortune by taking a lease of a range of stores, which he underlet at a large profit. Shortly afterward, during the servile insurrection in Hayti, several planters deposited their treasures on two of his vessels for safe keeping, and were subsequently massacred by the Negroes with their entire families, leaving Mr. Girard in possession of about $50,000. He invested largely in the shares of the old Bank of the United States in 1810, and in 1812 purchased its building and began operations in his own name, retaining the officers of the old institution, and succeeding to much of its business. During the war with Great Britain, Mr. Girard was the financial mainstay of the government, he continued to make it large advances, down to the establishment, in 1816, of the second United States bank, of which he became a director, and whose policy he influenced greatly. In 1814, when the government could obtain only $20,000 instead of the $5,000,000 that it wished, he promptly furnished the entire amount, and in the same year, when the interest on the public debt could not be paid, he wrote to the secretary of the treasury, offering to wait for his money, or to receive it in treasury notes. At his death his property amounted to about $9,000,000, the bulk of which he bequeathed for charitable purposes. The character of Girard has been regarded as an enigma. The disfigurement of his face by the loss of an eye in early childhood, shortly before he was thrown on the world for his support, seems to have soured his disposition, and throughout his life he was crabbed and unapproachable to most people, though he had several warm friends. In small matters he was a miser, ready to take advantage of a legal technicality to avoid paying a just claim, rigidly frugal in his personal habits, and never giving aid to any that applied for it at his door. He gave those in his employ nothing but their just wages, and exacted from them the utmost promptitude and fidelity. His life was one of constant labor; the smallest details of his business received his personal attention, and even his leisure was spent in working on his farm near Philadelphia, where he drove daily in a shabby carriage drawn by one horse. He was inhospitable, and his appearance was forbidding. He spoke English indifferently, was partially deaf after 1812, and in 1830 lost the use of his remaining eye by an accident. His personal appearance was that of a rough old sailor. He was a disbeliever in Christianity, and named his ships after noted French free-thinkers. Yet in public matters no one could be more open-handed. His timely aid to the government has already been mentioned. He gave thousands to the City of Philadelphia for public improvements, subscribed freely to charities, and even to Christian Churches. During the yellow-fever epidemic of 1798 he nursed many of the sufferers, was one of a committee that organized a hospital on Bush Hill, and when no one could be hired to take immediate charge of it, volunteered, with Peter Helm, for the work, and soon established cleanliness and order. He continued in active labor at the hospital for sixty days, and also contributed liberally to the families of the victims of the fever. His will. which would occupy nearly nine pages of this work, contains minute directions as to the disposal of his property. To the Pennsylvania hospital he bequeathed $30,000; to the Pennsylvania institution for the deaf and dumb. $20,000: to the Orphan asylum of Philadelphia, $10,000; to the Philadelphia public schools, $10,000; to the City of Philadelphia, for the distribution of fuel to the poor every winter, $10,000; to the Society for the relief of distressed masters of ships, $10,000; to the masonic loan, $20,000; to the City of New Orleans, a large amount of real estate; to the City of Philadelphia, for improvement of its Streets, buildings, etc., $500,000; for the improvement of canal navigation in Pennsylvania, $300,000. His principal bequest was $2,000,000, besides the residue of a certain portion of his estate out of which some legalities were to be paid, together with a plot of ground in Philadelphia, for the erection and support of a College for orphans. About one third of the will is taken up with prescribing the details of its construction and management, and Girard even goes so far as to dictate the thickness of the marble slabs on the roof, the exact dimensions of the building and its rooms, and the style of the gates leading to the grounds. His object seems to have been to make it certain that a fire-proof, substantial edifice should be built, in his own words, "avoiding needless ornament, and attending chiefly to the strength, convenience, and neatness of the whole." The principal building' of the College, which was begun in July, 1833, and opened 1 January 1848, is a magnificent specimen of Greek architecture, in the form of a temple, surrounded by thirty-four elaborate Corinthian columns, and costing, with the accompanying buildings, very nearly $2,000,000. It has been doubted whether Mr. Girard intended that any such structure should be erected. It is in many respects not well adapted to its uses, though the minute directions of the founder, who was not a practical architect, are, in some cases, responsible for these defects. As many poor white male orphans as the endowment can support are admitted between the ages of six and ten years, fed, clothed, and educated, and between the ages of fourteen and eighteen are bound out to mechanical, agricultural, or commercial occupations, The officers consist of a president, secretary, two professors, five rome and five female teachers, a physician, a matron, a steward, and a superintendent of manual labor; and there are about 500 beneficiaries. By a provision of the will of the founder no ecclesiastic, missionary, or minister of any sect whatever, is to hold any connection with the College, or be admitted to the premises even as a visitor. The object of this, in Girard's words, is "to keep the tender minds of the orphans who are to derive advantage from this bequest free from the excitement which clashing doctrines and sectarian controversy are so apt to produce," leaving them free to choose on their entrance into active life "such religious tenets as their matured reason may enable them to prefer." See "Life of Stephen Girard," by Stephen Simpson (Philadelphia, 1832), and "Girard College and its Founder," by Henry W. Arey (1860).
Edited Appletons Encyclopedia, Copyright © 2001 VirtualologyTM

Unauthorized Site: This site and its contents are not affiliated, connected, associated with or authorized by the individual, family, friends, or trademarked entities utilizing any part or the subject's entire name. Any official or affiliated sites that are related to this subject will be hyper linked below upon submission and Evisum, Inc. review.
Copyright© 2000 by Evisum Inc.TM. All rights reserved.
Evisum Inc.TM Privacy Policy