Dad, why are you a Republican?
Appleton's Cyclopedia of American Biography, edited by James Grant Wilson, John Fiske and Stanley L. Klos. Six volumes, New York: D. Appleton and Company, 1887-1889 and 1999. Virtualology.com warns that these 19th Century biographies contain errors and bias. We rely on volunteers to edit the historic biographies on a continual basis. If you would like to edit this biography please submit a rewritten biography in text form . If acceptable, the new biography will be published above the 19th Century Appleton's Cyclopedia Biography citing the volunteer editor
Virtual American Biographies
Over 30,000 personalities with thousands of 19th Century illustrations, signatures, and exceptional life stories. Virtualology.com welcomes editing and additions to the biographies. To become this site's editor or a contributor Click Here or e-mail Virtualology here.
A
B
C
D
E
F
G
H
I
J
K
L
M
N
O
P
Q
R
S
T
U
V
W
X
Y
Z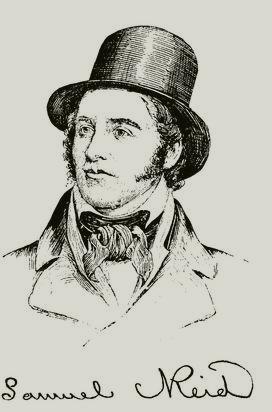 Click on an image to view full-sized
Samuel Chester Reid
REID, Samuel Chester, naval officer, born in Norwich, Connecticut, 25 August, 1783: died in New York city, 28 January, 1861. He was the son of Lieutenant John Reid of the British navy, who was taken prisoner in a night boat expedition at New London, Connecticut, and afterward resigned his commission. At the age of eleven the son went to sea, was captured by a French privateer and confined six months at Basseterre, Guadeloupe. Subsequently he served as acting midshipman in the "Baltimore" in Commander Thomas Truxton's West India squadron, and during the war of 1812 he commanded the privateer brig "General Armstrong," with which he fought one of the most remarkable naval battles on record at Fayal, in the Azores islands, 26 and 27 September, 1814. While at anchor in a neutral port his ship was attacked by a British squadron, consisting of the flag-ship " Plantagenet," of 74 guns, the frigate "Rota," of 44 guns, and the brig "Carnation," of 18 guns, and bearing more than 2,000 men. The "General Armstrong" carried 7 guns and 90 men. In a series of encounters Reid defeated the enemy, and in his account of the engagement he wrote: 'About 3 a. M. I received a message from the American consul requesting to see me on shore, where he informed me the governor had sent a note to Captain Lloyd, begging him to desist from further hostilities. To which Captain Lloyd sent for answer that he was now determined to have the privateer at the risk of knocking down the whole town; and that, if the governor suffered the Americans to injure the privateer in any manner, he should consider the place an enemy's port, and treat it accordingly. Finding this to be the case, I considered all hope of saving our vessel to be at an end. I therefore went on board and ordered all our wounded and dead to be taken on shore and the crew to save their effects as fast, as possible. Soon after this it became daylight, when the enemy's brig stood close in and commenced a heavy fire on us with all her force. After several broadsides she hauled off, having received a shot in her hull, her rigging much cut, and her fore-top-mast wounded. She soon after came in again and anchored close to the privateer. I then ordered the 'General Armstrong' to be scuttled to prevent the enemy from getting her off. She was soon afterward boarded by the enemy's boats and set on fire, which soon completed her destruction. They also destroyed a number of houses in the town and wounded some of tile inhabitants." The British lost 120 men killed and 180 wounded, while the Americans lost but two killed and seven wounded. A letter written from Fayal, by an Englishman who witnessed the scene, describes the second attack: "At midnight, it being about full moon, fourteen large launches, containing about forty men each, were discovered to be coming in rotation for a second attack. When they got within gun-shot a tremendous and effectual discharge was made from the privateer, which threw the boats into confusion. They now returned a spirited fire, but the privateer kept up so continual a discharge it was almost impossible for the boats to make any progress. They finally succeeded, after immense loss, to get alongside of her, and attempted to board at every quarter, cheered by the officers with a shout of ' No quarter!' which we could distinctly hear, as well as their shrieks and cries. The termination was near about a total massacre. Three of the boats were sunk, and but one poor solitary officer escaped death in a boat that contained fifty souls; he was wounded. The Americans fought with great firmness. Some of the boats were left without a single man to row them: others with three and four. The most that any one returned with was about ten. Several boats floated on shore full of dead bodies .... This bloody and unfortunate contest lasted about forty minutes. At daylight next morning tile' Carnation' hauled in alongside and engaged her, when the 'Armstrong' continued to make a most gallant defence, causing the ' Carnation' to cease firing and to haul off to repair We may well say God deliver us from our enemies' if this is the way the Americans fight." The defeated vessels were part of an expedition concentrating at Jamalta for a descent upon New Orleans, and their crippled condition prevented their immediate union with Admiral Sir Thomas Cochrane, Earl of Dundonail, and consequently the expedition did not reach New Orleans until four days after General Andrew Jackson's arrived, which saved Louisiana from British conquest. After burning the abandoned wreck, Captain van Lloyd informed the governor that, unless the gallant little crew he had failed to capture should be given to him as prisoners, he would send a force of 500 men to capture them. This was refused, and Reid and his men then took possession of and fortified an old convent, declaring that they would defend themselves to the last ; but they were not molested. The attack upon the "General Armstrong" led to a protracted diplomatic correspondence, from 1815 to the administration of President Zachary Taylor, who took measures to compel Portugal to assert the inviolability of its neutral port, and indemnify the claimants for the loss of the vessel; but after his death the case was submitted to the arbitration of Louis Napoleon, who decided against the Americans The British government afterward apologized for the violation of the neutrality. Congress finally paid the claim in 1882. On his return to the United States Captian Reid landed at Savannah, and in travelling to the north received many honors The legislature of New York gave him their thanks and a sword on 7 April, 1815. He was appointed a sailing-master in the navy, and held this post until his death, serving, meanwhile, as harbor-master and warden of the port of New York. He invented and erected the signal telegraph at tile Battery and the Narrows, and regulated and numbered the pilot-boats of New York, and established the lightship off Sandy Hook. He was also the designer of the present form of the United States flag, proposing to retain the original thirteen stripes and to add a new star whenever a new state should be admitted to the Union. This suggestion was adopted, and a flag conforming to his design was first raised over the hall of representatives in Washington on 13 April, 1818. See "The Origin and Progress of the United States Flag in tile United States of America." by George H. Preble, U.S.N. (Albany, 1872).--His son, Sam el, ester, lawyer, born in New York city, 21 October, 1818, shipped before the mast at the age of sixteen, in 1838 was attached to the United States survey of Ohio river, and in 1839 settled in Natchez, Mississippi, where he studied law under Gen John A. Quitman, and was appointed United States deputy marshal. He was admitted to the bar of Mississippi in 1841, to that of Louisiana in 1844, to the United States supreme court in 1846, and served in the Mexican war in Captain Ben McCulloch's company of Texas rangers, being mentioned for '" meritorious services and distinguished gallantry," at Monterey In 1849 he was attached to the "New Orleans Picayune," and in 1851 he was a delegate to the National railroad convention in Memphis, Tennessee, to decide upon a line to the Pacific. In 1857 he declined the appointment of United States minister to Rome. He reported the proceedings of the Louisiana secession convention in 1861, and during the civil war was the confederate war correspondent for a largo number of southern newspapers, in 1865 he resumed his law-practice, and in 1867 he delivered an " Address on the Restoration of Southern Trade and Commerce" in the principal cities of the south. He established and incorporated in 1874 the Mississippi Valley and Brazil steamship company in St. Louis, Missouri He presented the battle-sword of his father to the United States in 1887. Mr. Reid is the author of "The United States Bankrupt Law of 1841, with a Synopsis and Notes, and the Leading American and English Decisions" (Natchez, 1842)" " The Scouting Expeditions of McCulloch's Texas Rangers" (Philadelphia, 1847)" "The Battle of Chicamauga, a Concise History of Events from the Evacuation of Chattanooga" (Mobile, 1863)" and " The Daring Raid of General John H. Morgan, in Ohio, his Capture and Wonderful Escape with Captain T. Henry Hines" (Atlanta, 1864)" and reported and edited " The Case of the Private-armed Brig-of-War 'General Armstrong, ' with the Brief of Facts and Authorities on International Law, and the Arguments of Charles O'Conor, Sam C. Reid, and P. Phillips, before the United States Court of Claims at Washington, D. C, with the Decision of the Court" (New York, 1857). He also prepared " The Life and Times of Colonel Aaron Burr" in vindication of Burr's character, but the manuscript was destroyed by fire in 1850.
Edited Appletons Encyclopedia, Copyright © 2001 VirtualologyTM

Unauthorized Site: This site and its contents are not affiliated, connected, associated with or authorized by the individual, family, friends, or trademarked entities utilizing any part or the subject's entire name. Any official or affiliated sites that are related to this subject will be hyper linked below upon submission and Evisum, Inc. review.
Copyright© 2000 by Evisum Inc.TM. All rights reserved.
Evisum Inc.TM Privacy Policy