Appleton's Cyclopedia of American Biography, edited by James Grant Wilson, John Fiske and Stanley L. Klos. Six volumes, New York: D. Appleton and Company, 1887-1889 and 1999. Virtualology.com warns that these 19th Century biographies contain errors and bias. We rely on volunteers to edit the historic biographies on a continual basis. If you would like to edit this biography please submit a rewritten biography in text form . If acceptable, the new biography will be published above the 19th Century Appleton's Cyclopedia Biography citing the volunteer editor
Virtual American Biographies
Over 30,000 personalities with thousands of 19th Century illustrations, signatures, and exceptional life stories. Virtualology.com welcomes editing and additions to the biographies. To become this site's editor or a contributor Click Here or e-mail Virtualology here.
A
B
C
D
E
F
G
H
I
J
K
L
M
N
O
P
Q
R
S
T
U
V
W
X
Y
Z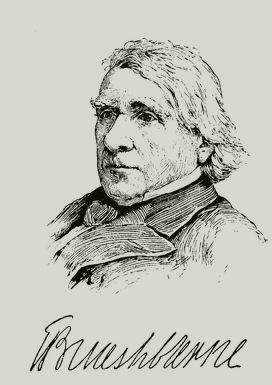 Click on an image to view full-sized
Israel Washburn
WASHBURN, Israel, governor of Maine, born in Livermore, Maine, 6 June, 1813; died in Philadelphia, Pennsylvania, 12 May, 1883. He was descended from John Washburn, who was secretary of Plymouth colony in England and who came to this country in 1631 and settled in Duxbury, Massachusetts. His grandfather, ISRAEL, served in the Revolutionary war and attained the rank of captain. He was repeatedly elected to the legislature, and was a member from Massachusetts of the convention which ratified the constitution of the United States. In 1806, ISRAEL, son of the foregoing, removed to Maine, where he taught at first, but in 1808 settled at White's Landing (now Richmond), on Kennebec river, where he engaged in ship-building. He established a trading-post at Livermore, Maine, in 1809, at what is now called The Norlands, and soon afterward settled there. Israel, the subject of this sketch, was educated at public schools and by private tutors, and was admitted to the bar in October, 1834. Settling in Orono, Maine, he soon acquired a large practice, and in 1842-'3 was a member of the legislature. In 1850 he was sent to congress, serving as a Whig from 1 December, 1851, to 1 January, 1861, when he resigned, having been chosen governor of Maine. Declining a re-election, he was appointed in 1863 by President Lincoln collector of customs at Portland, Maine, which office he held until 1877. He was president of the board of trustees of Tufts college, and was elected to the presidency of that institution in 1875, but declined. The degree of LL.D. was conferred on him by Tufts college in 1872. Gov. Washburn was a member of historical and genealogical societies, and, in addition to many of his addresses and speeches, which have had a wide circulation, published "Notes, Historical, Descriptive, and Personal, of Livermore, Maine" (1874).--Israel's brother, Elihu Benjamin, statesman, born in Livermore, Maine, 23 September, 1816; died in Chicago, Illinois, 22 October, 1887, wrote his family name with a final "e." He was educated at public schools, and, after working on his father's farm, entered the office of the "Christian Intelligencer" in Gardiner in 1833 as a printer's apprentice. The paper was discontinued a year later, and he was chosen to teach in the district school. In May, 1835, he entered the office of the "Kennebec Journal," at Augusta, where he continued for a year, during which time he rose gradually until he became an assistant of the editor, and acquired his first knowledge of political life during the sessions of the state legislature. He then decided to study law, and entered Kent's Hill seminary in 1836. After a year in that institution he began his professional studies in the office of John Otis in Hallowell, who, impressed by his diligence and ambition, aided him financially and took him into his own home to board. In March, 1839, he entered the law-school at Harvard, where among his classmates were Richard H. Dana, Charles Devens, and William M. Evarts. He was admitted to the bar in 1840, and at once determined to establish himself in the west. Settling in Galena, Illinois, he there entered into law-partnership with Charles S. Hempstead, and, being a strong Whig, made speeches in behalf of that party, which had nominated William H. Harrison for the presidency. In 1844 he was a delegate to the Whig national convention in Baltimore that selected Henry Clay as its candidate, and on his return he visited "that statesman in Washington. Meanwhile his business increased, and he was frequently called upon to practise in the supreme court of the state. In 1848 he was nominated for congress in the Galena district, but was defeated by Colonel Edward D. Baker. In 1852, as a delegate to the National Whig convention, he advocated the nomination of General Winfield Scott, and in the same year he was elected to congress, serving thereafter from 5 December, 1853, till 6 March, 1869. He soon gained an excellent reputation, and, on the election of Nathaniel P. Banks as speaker in 1855, was given the chairmanship of the committee on commerce, which he held for ten years. He was selected by the house to accompany William H. Seward, representing the senate, to receive Abraham Lincoln when he arrived in Washington after his election. From the length of his continuous service he became recognized as the "Father of the House," and in that capacity administered the oath as speaker to Schuyler Colfax three times, and to James G. Blaine once. From his continual habit of closely scrutinizing all demands that were made upon the treasury and persistently demanding that the finances of the government should be administered with the strictest economy, he acquired the name of the "Watch-dog of the Treasury." He was a steadfast friend of Ulysses S. Grant during the civil war, and every promotion that the latter received was given either solely or in part upon the recommendation of Mr. Washburne. Subsequently he originated the bills that made Gem Grant lieutenant-general and general. Mr. Washburne was a member of the joint committee on reconstruction and chairman of the committee of the whole house in the matter of the impeachment of Andrew Johnson. He opposed all grants of the public lands and all subsidies to railroad companies, and resisted with all his power what he called "the greatest legislative crime in history "--the bill that subordinated the first mortgage of the government on the Pacific railroad to the mortgage of the railroad companies. He also opposed "log-rolling" river and harbor bills, all extravagant appropriations for public buildings, all subsidies for steamship lines, and all undue renewals of patents. Among the important bills that he introduced was the one that provided for the establishment of national cemeteries. At the beginning of his administration President Grant appointed Mr. Washburne secretary of state, which office he resigned soon afterward to become minister to France. This place he held during the Franco-Prussian war, and on the withdrawal of the German ambassador, the latter was ordered by Count Bismarck to turn over his archives to the American legation. At the request of Bismarck, and with the permission of the French minister of foreign affairs, he exercised his official influence with remarkable tact and skill for the protection of the Germans in Paris and acted as the representative of the various German states and other foreign governments. When the empire was overthrown, Mr. Washburne was the first foreign representative to recognize the new republic. He remained in Paris during the siege, and was at his post when the Commune ruled the city. He visited the venerable archbishop Darboy of Paris when he was hurried to prison, and succeeded in having the prelate removed to more comfortable quarters, but failed to prevent his murder. He retained the respect and good-will of the French during all the changes of government, and the emperor of Germany recognized his services by conferring upon him the Order of the Red Eagle. This he declined, owing to the provision of the United States constitution that prevented its acceptance, but on his resignation in 1877 the emperor sent him his life-size portrait, and he was similarly honored by Bismarck, Thiers, and Gambetta. On his return to this court-try he settled in Chicago, and in 1880 his name was brought forward as a candidate for the presidency, but he refused to have it presented to the convention. He was president of the Chicago historical society from November, 1884, till his death, and was frequently invited to lecture on his foreign experiences. He wrote a series of articles on that subject for "Scribner's Magazine," which were expanded into "Recollections of a Minister to France, 1869-1877" (2 vols., New York, 1887). His collection of pictures, documents, and autographs he desired to be given to the city of Chicago, provided they should be exhibited free to the general public. Efforts are being made to secure the erection of a suitable building in Lincoln park for their exhibition. Mr. Washburne edited "History of the English Settlement in Edwards County, Illinois" (Chicago, 1882); and" The Edwards Papers" (1884). --Another brother, Cadwallader Colden, lawyer, born in Livermore, Maine, 22 April, 1818; died in Eureka Springs, Arkansas, 14 May, 1882, worked on his father's farm in summer and attended the town school in winter until about 1835, when he went to Hallowell and was employed in a store. He also served in the post-office, and during the winter of 1838-'9 taught in Wiscasset. In the spring of 1839 he set out for the west and settled at Davenport, Iowa, where he joined the geological survey of that state under David Dale Owen. Toward the close of the year he entered the law-office of Joseph B. Wells, having previously studied under his uncle, Reuel Washburn, in Livermore, Maine, and was admitted to the bar on 29 March, 1842. In 1840 he was elected surveyor of the county of Rock Island, Illinois, the duties of which he performed while preparing for his profession. He removed to Mineral Point, Wisconsin, in 1842, and in 1844 entered into partnership with Cyrus Woodman, agent of the New England land company, but their law-practice gradually diminished as they paid greater attention to financial matters. They dealt largely in the entry of public lands for settlers and the location of Mexican land-warrants. In 1852 the firm established the Mineral Point bank, which never suspended specie payments and during its existence had a high reputation. On the repeal of the Missouri compromise, Washburn was chosen as a Whig to congress, and served with re-elections from 3 December, 1855, till 3 March, 1861. He then declined a renomination, but was sent as a delegate from Wisconsin to the Peace congress that was held in Philadelphia in 1861. At the beginning of the civil war he raised the 2d Wis-cousin cavalry, and was commissioned its colonel, 10 October, 1861. His first service was under General Samuel R. Curtis in Arkansas. Among his acts at this period were the dislodging of a Confederate force that was preparing to obstruct the progress of the National army at the crossing of the Tallahatchie, and the opening of the Yazoo pass" and he was conspicuous in the battle of Grand Coteau, where he saved the 4th division, under General Stephen G. Burbridge, from annihilation by an overwhelming force of the enemy. He was commissioned brigadier on 16 July, 1862, and on 29 November, 1862, major-general of volunteers. He took part in the siege of Vicksburg, and on its surrender was given command of the 13th corps and sent to the Department of the Gulf. On 29 November, 1863, he landed on the coast of Texas with 2,800 men and compelled the evacuation of Fort Esperanza, a bomb-proof work, which was cased with railroad iron, surrounded by a deep moat filled with water, manned by 1,000 men, and mounted ten guns. This fort was at Pass Cavallo, and guarded the entrance to Matagorda bay. In April, 1864, he was ordered to relieve General Stephen A. Hurlburt, in command at Memphis, of the district of west Tennessee. This post he held almost continuously until his resignation on 25 May, 1865. Gen Washburn was sent as a Republican from the 6th district of Wisconsin to congress, and served with re election from 4 March, 1867, till 3 March, 1871. In the autumn of 1871 he was elected governor of Wisconsin, and he held that office for two years, beginning 1 January, 1872. He was an unsuccessful candidate for the office in 1873, and afterward for the United States senate. On retiring from office, he directed his attention to the care of his property. The timber lands that he had purchased soon after he settled in the state had become very valuable, and he operated extensively in lumber. In 1876 he erected an immense flouring-mill in Minneapolis, where first in this country was introduced the "patent process " and the Hungarian system. It was destroyed by an explosion in 1878, but he at once replaced it with one more capacious. He was also one of the largest owners of the water-power at St. Anthony Falls, and a heavy stock-holder in the Minneapolis and St. Louis railroad. General Washburn was actively interested in the Wisconsin historical society, and was its president for several years. He founded, in connection with the State university of Wisconsin, the Washburn observatory, which, with its instruments, cost more than $50,000. The legislature of the state made him a life regent of the university, which in 1873 conferred upon him the degree of LL.D. His country-house of Edge-wood, near Madison, worth $20,000, he presented to the Dominican Sisters for use as a school for girls. In his will he bequeathed 850,000 to found a public library at La Crosse, and $375,000 for the establishment of an orphans' home in Minneapolis. --Another brother, Charles Ames, editor, born in Livermore, Maine, 16 March, 1822, was graduated at Bowdoin in 1848, and after studying law was admitted to practice in Mineral Point, Wisconsin In 1850 he went to California and connected himself with the press, settling in San Francisco in 1853, where he became editor and then proprietor of the "Alta California." Mr. Washburn took an active part in the foundation of the Republican party, and his journal was the first on the Pacific coast to advocate the distinctive principles of that organization. From 1858 till 1860 he edited and owned the San Francisco "Daily Times." In 1860 he was an elector-at-large from California, and in 1861 he was appointed by President Lincoln commissioner to Paraguay, where he was afterward minister-resident from 1863 till 1868. His term of office included the period of the war between Paraguay and Brazil, and in 1868, when the foreign residents were accused of conspiring against President Francisco S. Lopez, Mr. Washburn escaped through the opportune arrival of the United States war-steamer "Wasp," while two of his subordinates, unable to escape, were seized and tortured. (See LOPEZ.) His action in trying to save the lives of those that were supposed to be connected with the conspiracy brought him into collision with officers of the United States navy, but a congressional committee exonerated him. On his return to this country he settled at first in Oakland, California, but ultimately made Morristown, New Jersey, his home. He has devoted his attention to the invention of several ingenious machines, notably the typograph, a form of type-writer. In addition to various contributions to periodicals, he has published two works of fiction, "Philip Thaxter" (New York, 1861) and "Gomery of Montgomery" (1865); a "History of Paraguay" (2 vols., Boston, 1870); "Political Evolution" (Philadelphia, 1887), and "From Poverty to Competence" (1887). --Another brother, William Drew, born in Liver-more, Maine, 14 January, 1831, was graduated at Bowdoin in 1854, admitted to the bar in 1857, and began practice in Minnesota. In 1861-'5 he was surveyor-general of that state. Subsequently he settled in Minneapolis and engaged in manufacturing. He became president of the Minneapolis and St. Louis railroad, and in 1878 was elected to congress, where he served for three terms, ending on 3 March, 1885.
Edited Appletons Encyclopedia, Copyright © 2001 VirtualologyTM

Unauthorized Site: This site and its contents are not affiliated, connected, associated with or authorized by the individual, family, friends, or trademarked entities utilizing any part or the subject's entire name. Any official or affiliated sites that are related to this subject will be hyper linked below upon submission and Evisum, Inc. review.
Copyright© 2000 by Evisum Inc.TM. All rights reserved.
Evisum Inc.TM Privacy Policy