Appleton's Cyclopedia of American Biography, edited by James Grant Wilson, John Fiske and Stanley L. Klos. Six volumes, New York: D. Appleton and Company, 1887-1889 and 1999. Virtualology.com warns that these 19th Century biographies contain errors and bias. We rely on volunteers to edit the historic biographies on a continual basis. If you would like to edit this biography please submit a rewritten biography in text form . If acceptable, the new biography will be published above the 19th Century Appleton's Cyclopedia Biography citing the volunteer editor
Virtual American Biographies
Over 30,000 personalities with thousands of 19th Century illustrations, signatures, and exceptional life stories. Virtualology.com welcomes editing and additions to the biographies. To become this site's editor or a contributor Click Here or e-mail Virtualology here.
A
B
C
D
E
F
G
H
I
J
K
L
M
N
O
P
Q
R
S
T
U
V
W
X
Y
Z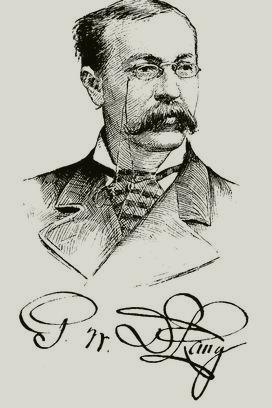 Click on an image to view full-sized
George Washington De Long
DE LONG, George Washington, explorer, born in New York City, 22 August 1844; died in Siberia, 30 October 1881. His early education was obtained in the public schools of Brooklyn. He was appointed an acting midshipman at the U. S. naval academy in 1861 graduated in 1865, and was promoted to be ensign, 1 December 1866; master, 12 March 1868; lieutenant, 29 March 1869; and lieutenant commander, 1 November 1879. He served in the European squadron in 1865'9 and 1873'4, in the South Atlantic fleet in 1870, on the North Atlantic station in 1874, and was executive officer of the school ship " St. Mary's," off New York City, in 1875'8. On 1 March 1871, he married Miss Emma J. Wotton, the ceremony taking place on the U. S. steamer "Shenandoah," in the harbor of Havre, owing to the impracticability of complying with French laws as to marriage on French soil. In 1873 he was serving on the "Juniata," which, commanded by Captain D. L. Braine, was ordered to search for the missing arctic steamer" Polaris" and its crew° Supplementary to the movements of the "Tigress" in the north water of Barn's bay, Captain Braine thought search along the fast ice of Melville bay important, and detached Lieutenant De Long with the steam launch " Juniata." He left Upernivik, 2 August with Lieutenant Charles W. Chipp and seven others, crossed Melville bay in a steam launch thirty-two feet long, and reached a point less than ten miles from Cape York, but was prevented by a violent gale from landing or further pursuing the search. From October 1873, till 1878, Lieutenant De Long served as executive officer on the school ship " St. Mary's." The " Jeannette" (which, as the "Pandora," had made two arctic voyages under Sir Allen Young) was purchased by James Gordon Bennett, Jr., and strengthened and fitted out at his expense for a three years' voyage of exploration via Bering strait.
By special act of congress the government assumed authority, while Mr. Bennett met the expense. The " Jeannette" sailed from San Francisco, under Lieutenant De Long's command, 8 July 1879. The equipage numbered thirty-three, including five officers of the navy. Touching at Ounalaska, St. Michael's, and St. Lawrence bay, De Long proceeded to Cape Serdze Kamen, Siberia, to search for Nordenskiold, who left before his arrival. Steaming northward and taking the pack, the "Jeannette" was beset, 5 September 1879, off Herald island, in about 71° 35' N., 75° W. The vessel never escaped the pack, and, after drifting over 600 miles to the northwest, in a devious course, making twice the distance, was crushed by the ice in 77° 15' N., 155° E., 13 June 1881. Lieutenant Com. De Long and his party were thus adrift in the polar sea 150 geographical miles from the New Siberian Islands, and over 300 from the nearest point of the mainland of Asia. De Long started southward with his party, and reached Bennett island, 28 July and Thaddeus Island (one of the new Siberian group), 20 August 1881.
The party had made this remarkable journey so far alternately by sledge and boat. From this point they proceeded in boats, under the command respectively of De Long, Lieutenant Chipp, and Chief Engineer George W. Melville. Chipp's boat was lost, with eight men, in a gale on 12 September off the Lena delta; but Melville, with nine others, reached, through one of the eastern mouths of the River, a small village on the Lena. De Long, Dr. Ambler, and thirteen others reached the main mouth of the Lena, 17 September having traveled about 2,800 miles, and reached the mainhind at a point 500 miles distant from their lost ship. Obliged by new ice to abandon their boat and travel overland, they proceeded slowly up the Lena, much embarrassed by sick and helpless men and their cumbersome records. On 9 October they could go no farther. Two men, sent forward by De Long to obtain relief, survived, but the others perished of exposure and starvation within twenty-five miles of a Siberian settlement. De Long's diary, written up to the last day, shows that he and two others were living on 30 October Noros and Nindemann, the men sent forward by De Long, fell in with natives on 22 October and with Melville, 29 October at Belun. Melville pushed his search, without success, northward to the extremity of the Lena delta in November and, renewing his search in March 1882, found the dead bodies and the records of the expedition on the 23d of that month. By direction of the U. S. government, the remains of De Long and his unfortunate companions were brought to his native City, where they were interred with distinguished honors on 22 February 1884. The attainment of the highest latitude in Asiatic seas, and the discovery of Jeannette, Henrietta, and Bennett islands, appear at first to be meager and inadequate results from so long and disastrous a voyage. But to the positive results must be added negative discoveries; for before De Long's northwest drift the long sought for Wrangell land shrank, from a continent supposed to extend from the confines of Asia to Greenland, into a small island. But the hydrographical conditions of the 50,000 square miles of the polar ocean charted by De Long clearly indicate the character of 50,000 other square miles of area to the south, where doubtless a shallow sea exists, with occasional small islands of no great size. When Wrangell Island proved to be an inconsiderable land, De Long's expedition was doomed to comparative failure, and Bering strait was closed as a road to high latitudes; for without a protecting coast no vessel can hope to navigate the polar seas. The valuable hydrographic, magnetic, and meteorological observations of the expedition still remain inaccessible and undiscussed (1887), although ten times the amount necessary for their proper publication has been devoted to investigations of the expedition, with the result fortunately of illustrating Commander De Long's many admirable qualities as an officer and a man. The court of inquiry, in its findings, said officially: " Special commendation is due LieutenantCommander De Long for the high qualities displayed by him in the conduct of the expedition." De Long's journals have been edited by his widow, under the title " The Voyage of the Jeannette" (Boston, 1883), and the story of the search is to be found in Melville's "In the Lena Delta" (Boston, 1884).
Edited Appletons Encyclopedia, Copyright © 2001 VirtualologyTM

Unauthorized Site: This site and its contents are not affiliated, connected, associated with or authorized by the individual, family, friends, or trademarked entities utilizing any part or the subject's entire name. Any official or affiliated sites that are related to this subject will be hyper linked below upon submission and Evisum, Inc. review.
Copyright© 2000 by Evisum Inc.TM. All rights reserved.
Evisum Inc.TM Privacy Policy