Appleton's Cyclopedia of American Biography, edited by James Grant Wilson, John Fiske and Stanley L. Klos. Six volumes, New York: D. Appleton and Company, 1887-1889 and 1999. Virtualology.com warns that these 19th Century biographies contain errors and bias. We rely on volunteers to edit the historic biographies on a continual basis. If you would like to edit this biography please submit a rewritten biography in text form . If acceptable, the new biography will be published above the 19th Century Appleton's Cyclopedia Biography citing the volunteer editor
Virtual American Biographies
Over 30,000 personalities with thousands of 19th Century illustrations, signatures, and exceptional life stories. Virtualology.com welcomes editing and additions to the biographies. To become this site's editor or a contributor Click Here or e-mail Virtualology here.
A
B
C
D
E
F
G
H
I
J
K
L
M
N
O
P
Q
R
S
T
U
V
W
X
Y
Z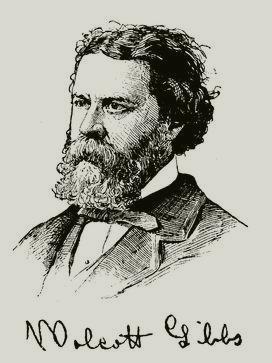 Click on an image to view full-sized
George Gibbs
GIBBS, George, mineralogist, born in Newport, Rhode Island, 7 January 1776; died on his estate of Sunswick, L. I., 6 August, 1833. He spent several years while a young man in travel abroad, and devoted much of his time and wealth to the collection of minerals. On his return to Rhode Island he brought with him the most extensive and valuable collection ever seen in the United States up to that time. It consisted of the collection of Gigot d'Orcy, containing 4,000 specimens, and that of Count Gregoire de Razamowsky, containing 6,000 specimens. These, with the results of his own gathering, formed a cabinet of more than 20,000 minerals. The collection wax first exhibited in Newport. R. I., and among the many visitors was Professor Benjamin Silliman the elder, who spent several weeks in studying and examining it. He formed a warm personal friendship with Mr. Gibbs, who offered to deposit his collection at Yale, provided that rooms should be fitted up for its reception. In 1825 he offered it for sale at $20,000, giving the preference to Yale. The funds were raised through the influence of Professor Silliman, and the largest and finest collection of minerals then in the United States became the property of that University. It is still unequalled by any College collection in the country. Mr. Gibbs continued his interest in this science, making extensive journeys and developing new mineral localities. As an incentive to students he offered prizes at Yale for superiority in mineralogy, and for services rendered to the science by useful discoveries and observations. In 1822 he was elected vice-president of the New York lyceum of natural history, He published valuable papers both in the "American Mineralogical Journal " and the "American Journal of Science," and did much by his counsel and co-operation to support these publications, he married Laura, daughter of Oliver Wolcott, secretary of the treasury during the administrations of Washington and John Adams.--Their son, George, antiquarian, born in Sunswick, now Astoria, L. I., 17 July, 1815 ; died in New Haven, Connecticut, 9 April, 1873, received his early education at Round Hill school in Northampton, Massachusetts, under George Bancroft and Joseph G. Cogswell. He spent two years in foreign travel, and then was graduated at Harvard law-school in 1838. Subsequently he practiced in New York City with Prescott Hall, and devoted himself to the historical branch of conveyancing, making valuable collections of titles and abstracts. He also at this time occupied himself with the preparation of the "Memoirs of the Administrations of Washington and John Adams," edited from the papers of his grandfather, Oliver Wolcott (New York, 1846). His early fondness for outdoor life continued as long as he lived, and soon after the discovery of gold in California he marched with the mounted rifles overland from St. Louis to the Pacific coast, establishing himself in Columbia, Oregon. In 1854 he received the appointment of collector of Astoria, which he held for several years, and on the expiration of his term of office remained in the west, devoting his attention to the study of Indian dialects and to geology and natural history. Later he was attached to the United States government boundary commission, where his knowledge of natural history made his services of great value, and he was also geologist under General Isaac I. Stevens on the survey of the North Pacific railroad. In 1857 he was appointed to the northwest boundary survey, and at the close of its work prepared an elaborate report on the geology and natural history of the country. He returned to New York in 1860, and was active in his efforts toward preventing secession. In 1861 he volunteered and did military duty in Washington. During the draft riots in New York, two years later, he offered to defend the residence of General John C. Fremont when a night attack was threatened. Subsequently he was secretary of the Hudson bay claims commission in Washington, and also was engaged in the arrangement of a mass of manuscript bearing on the ethnology and philology of the American Indians. His services were used by the Smithsonian institution to superintend its labors in this field, and to his energy and complete knowledge of the subject it greatly owes its success in this branch of science. He was an active member of the New York historical society, and was its secretary from 184.2 till 1848. His papers on Indian dialects contributed to the various Smithsonian publications include numerous titles, and his separate publications are " The Judicial Chronicle" (Cambridge, 1834);" Instructions for Research relative to the Ethnology and Philology of America " (Washington, 1863); "A Dictionary of the Chinook Jargon or Trade Language of Oregon " (1863); " Comparative Vocabulary " (1863) ; and "Suggestions relative to Objects of Scientific Investigation in Russian America " (1867).--Another son, Oliver Wolcott, chemist, born in New York City. 21 February, 1822, after passing through the grammar school attached to Columbia, was graduated at that College in 1841. A few months were then spent in the laboratory of Dr. Robert Hare in Philadelphia, after which he returned to New York, and was graduated at the College of physicians and surgeons in 1845. Subsequently he went abroad, and studied chemistry at first under Rammelsberg and then under Heinrieh Rose in the University of Berlin, spending a year and a half in these two laboratories. Later he passed five months in Giessen, studying organic chemistry under Liebig, and afterward attended the lectures on physics in the College of France by Regnault. In 1848 he returned to the United States and gave a short course of lectures at Delaware College, Newark, Delaware. From 1849 till 1863 he held the chair of physics and chemistry in the College of the City of New York, and then was elected to the Rumford professorship in Harvard University with the charge of the laboratory of the Lawrence scientific school, which chair he has since held. On the reorganization of the University subsequent to the election of Charles W. Eliot to the presidency the teaching of chemistry was transferred to the collegiate department, and the subjects of heat and light were assigned to Dr. Gibbs. During the years when he directed the chemical laboratory the school attained its greatest celebrity, and many of its most distinguished graduates acquired their knowledge of chemistry from his teaching. Like his colleague, Louis Agassiz, he attracted to him students who became his personal friends and who have ever maintained a filial regard for him. During the civil war he was actively associated in the labors of the United States sanitary commission, and was a member of its executive committee in New York City. The members of this organization were compelled to meet each other almost daily, and out of their work grew the Union league club of New York. Dr. Gibbs" was the first to suggest that the idea on which the sanitary commission was formed needed to take the form of a club which should be devoted to the social organization of sentiments of loyalty to the Union." The original meeting to consider the feasibility of the plan was held at his residence on 30 January 1863. He was appointed a commissioner to the Vienna exhibition in 1873, and contributed to the government reports a valuable paper on his examination of the instruments of physical research. Dr. Gibbs is the only American honorary member of the German chemical society, and one of the two American honorary members of the London chemical society. He was one of the original members of the National academy of sciences, was for some time its vice-president, and has declined an election to the presidency. At present he is its foreign secretary. He is also a member of other American scientific societies, and was elected vice-president of the American association for the advancement of science in 1866. In 1873 he received the honorary degree of LL.D. from Columbia. He announced his intention in 1851 of preparing for the columns of the "American Journal of Science" abstracts of the more important physical and chemical papers contained in foreign scientific journals, accompanied by references and by such critical observations as the occasion might demand. This purpose was steadily carried out until 1873, and these abstracts cover over 500 closely printed pages. Much of his original investigation has appeared in the "Contributions to Chemistry from the Lawrence Scientific School," and he has published very elaborate memoirs on the platinum metals, on the ammonia cobalt bases, on new analytical methods, and on complex inorganic acids, discovering platino-tungstates, vanadio-tungstates and molybdates, as well as other exceedingly complicated compounds in inorganic chemistry. In physics he has published papers on the wave-lengths of light, on vapor densities, improved methods of gas analysis, and on the theory of. the dynamo-electric machine. These have appeared principally in the "American Journal of Science" and the "American Chemical Journal." Dr. Gibbs has published no book, but as an indefatigable original investigator in the domain of chemistry and physics he has no superior in the United States.--Another son, Alfred, soldier, born in Sunswick, L. I., 22 April, 1823; died in Fort Leavenworth, Kansas, 26 December 1868. His family, disappointed in their wish to obtain a military appointment for their second son, persisted in the effort, and as the one grew beyond the age within which the candidate is eligible, the claim for appointment was transferred to the next, and as persistently urged. The second son was compelled to give up his ambition, but the third received the long-sought commission. He was graduated at the United States military academy in 1846, assigned to the mounted rifles, and received two brevets during the Mexican war--that of 1st lieutenant for gallantry at Cerro Gordo, where he was wounded, and that of captain for his services at Garita de Belen, City of Mexico. He was also at Vera Cruz, Contreras, Churubusco, and Chapultepee. He was aide-de-camp to General Persifor F. Smith in Mexico, California, and Texas in 1848-'56, was promoted to 1st lieutenant, 31 May, 1853, and served on the frontier till the civil war, being severely wounded in a skirmish with Apache Indians at Cooke's Spring, New Mexico, 8 March, 1857, and taking part in the Navajo expedition of 1860. He was depot-commissary at Albuquerque, New Mexico, in 1860-'1, was promoted to captain, 13 May, 1861, and on 27 August, 1862, was taken prisoner by the Confederates at San Augustine Springs, New Mexico He was paroled till exchanged, 27 August, 1862, and on 6 September became colonel of the 130th New York regiment. He was engaged in the operations about Suffolk, Virginia, till June, 1863, and in July and August of that year in organizing his command as a cavalry regiment, which was afterward known as the 1st New York dragoons. In 1864-'5 he commanded a cavalry reserve brigade, and served under General Sheridan on several of his cavalry raids. He was brevetted major, 11 June, 1864, for gallantry at Trevillian Station, Virginia, lieutenant colonel for services at the battle of Winchester, and on 19 October, 1864, became brigadier-general of volunteers. He commanded a cavalry brigade in the final attack and pursuit of the Army of Northern Virginia in March and April, 1865, and on 13 March received all the brevets up to and including that of major general, United States army, for his services during the war. He was mustered out of volunteer service, 1 February, 1866, became major in the 7th cavalry on 28 July, and served in various forts in Kansas till his death.
Edited Appletons Encyclopedia, Copyright © 2001 VirtualologyTM

Unauthorized Site: This site and its contents are not affiliated, connected, associated with or authorized by the individual, family, friends, or trademarked entities utilizing any part or the subject's entire name. Any official or affiliated sites that are related to this subject will be hyper linked below upon submission and Evisum, Inc. review.
Copyright© 2000 by Evisum Inc.TM. All rights reserved.
Evisum Inc.TM Privacy Policy