The Seven Flags of the New Orleans Tri-Centennial
Available: The Rise Of The U.S. Presidency & Forgotten Capitols
SOLD OUT


Click Here For United States Court of Appeals Update
The Forgotten Capitols
by: Stanley L. Klos
For My Loving Mother, Elizabeth R. Klos

Who Is Gently Caring For Her Eight Grandchildren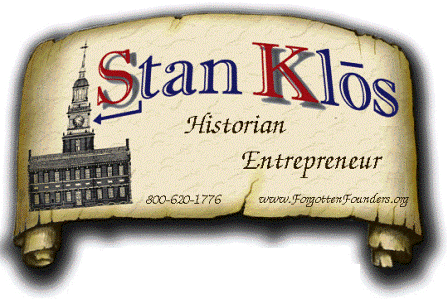 Suite 308 – 2708 Alternate 19
Palm Harbor, Florida 34683
Copyright 2008 by Stanley L. Klos
All Rights reserved including the Right
of Reproduction in whole or in part in any form.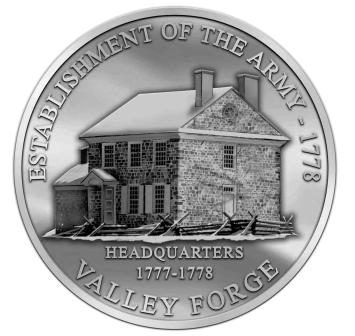 Medallion Design and Artwork by:
Mike Shaudis & Stanley L. Klos
Edited by: Michelle Gerson
<![if !supportLineBreakNewLine]>
<![endif]>
Special Thanks To: Richard J. Pomazal, Ph. D
ISBN: 0-9752627-8-5
Manufactured in the United States of America

Introduction

Chapter I

The Presiding Presidency - 6


Chapter II

Continental Congress Presidents - 32
<![if !supportLineBreakNewLine]>
<![endif]>

Chapter III

Constitution of 1777 Presidents - 45


Chapter IV

What Would Peyton Do? - 190


Bibliography

200


End Notes

207
Introduction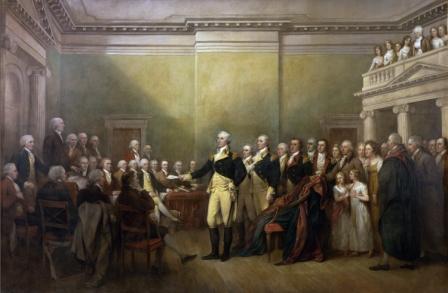 John Trumbull's "Washington Resigning His Commission," a painting in the Rotunda of the current Capitol building of the United States of America. Washington's resignation as the First Commander-in-Chief of the United States and Colonies of America occurred in Annapolis at the Maryland State House.<![if !supportFootnotes]>[i]<![endif]>
This book was written as a companion to the author's previous work, President Who? Forgotten Founders. The work is divided into four chapters. The first chapter provides a brief history of the Presidencies of the Continental Congress and United States in Congress Assembled. The second chapter focuses on the Continental Congress Presidents with a sampling of author's traveling exhibit: Forgotten Founders - Historic Documents of Freedom. The third chapter covers the current $1.00 Presidential coin controversy, Klos v. Paulson with crisp biographies on the Constitution of 1777 Presidents. This chapter also unveils the coins the author proposed to Secretary of the Treasury Paulson representing the Presidents of the United States in Congress Assembled on the obverse with the reverse capturing ten different Capitol buildings of their presidencies. The fourth and final chapter is entitled "What Would Peyton Do?" and it is a clever chapter challenging the reader to speculate, along with the author, on what the founders would do? as 21st Century U.S. Presidents.
Peyton Randolph was the first President of the Continental Congress of the United Colonies, which was the seed that flourished into today's U.S. Presidency.
Randolph, the Attorney General of the Virginia Colony and Chairman of the Virginia House of Burgesses, was an important mentor of George Washington. As Attorney General, Randolph backed his appointment as an officer in the Virginia Militia, which led to Washington's remarkable journey to Jumonville Glen sparking the French and Indian War. Peyton Randolph was proclaimed a rebel and traitor to the Crown long before George Washington and orders were issued for his arrest shortly after serving his first term as President of the Continental Congress. <![if !supportFootnotes]> [ii]<![endif]> Randolph, unswayed by the royal death warrant, served a second term as President. During his second term Randolph, along with John Adams, heavily supported Washington's candidacy and subsequent appointment of Commander-in-Chief over John Hancock in 1775. Randolph was so revered in Virginia that after serving his second term and returning home the Williamsburg Militia, in direct opposition to the Royal Governor, voluntarily offered him its protection in a public address that concluded:
"May heaven grant you long to live the father of your country – and the friend to freedom and humanity!" <![if !supportFootnotes]> [iii]<![endif]>
The title of the fourth chapter, What Would Peyton Do?, is taken from a letter Thomas Jefferson wrote to his grandson declaring that:
I had the good fortune to become acquainted very early with some characters of very high standing, and to feel the incessant wish that I could ever become what they were. Under temptations & difficulties, I would ask myself what would Dr. Small, Mr. Wythe, Peyton Randolph do in this situation? What course in it will insure me their approbation? I am certain that this mode of deciding on my conduct, tended more to its correctness than any reasoning powers I possessed. Knowing the even & dignified line they pursued, I could never doubt for a moment which of two courses would be in character for them. Whereas, seeking the same object through a process of moral reasoning, & with the jaundiced eye of youth, I should often have erred. From the circumstances of my position, I was often thrown into the society of horse-racers, card-players, fox hunters, scientific and professional men, and of dignified men; and many a time have I asked myself in the enthusiastic moment of the death of a fox, the victory of a favorite horse, the issue of a question eloquently argued at the bar or in the great council of the nation, Well, which of these kinds of reputation should I prefer? That of a horse-jockey? a fox-hunter? an orator? or the honest advocate of my country's rights? Be assured, my dear Jefferson, that these little returns into ourselves, this self-catechizing habit, is not trifling nor useless, but leads to the prudent selection and steady pursuit of what is right."<![if !supportFootnotes]>[iv]<![endif]>
Chapter IV asks this question; What would the Presidents do today to improve 21st Century America?
In this Internet age, communication is instantaneous. The amount of misinformation permeating the written and visual record is astounding. Careful scholarship, now more than ever, must be observed, especially on matters historically important to the national identity of the United States of America, which founded the Internet. This author, whenever possible, has gone directly to primary sources to minimize human error striving to give an accurate account of the United States Presidency's founding and progression from 1774 to 1788. This is a serious effort to present, outline and discuss the era and dispel commonly held myths about the earliest history of the United States
The chapter discussing "What the Presiding Presidents Would Do? in 21st Century America has been covered simplistically as "everything should be made as simple as possible, but not simpler" – Albert Einstein. Bridging 18th and 21st Century issues in conjunction with the U.S. founding is no small task. Additionally, there is a plethora of scholars, politicians, philosophers and citizens who have an intellectual treasure chest of knowledge and competency on the above topica far superior to this author. Therefore, it is this writer's hope that these brief biographical chapters will act as a catalyst to stimulate creative patriotic minds to whole heartedly research the U.S. Founding Era and what the Presidents accomplished under national challenges far greater than we face today. History is the Crystal Ball to the Future and We the thinking People are life's Oracles.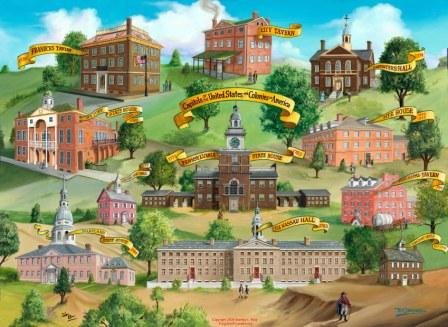 Forgotten U.S. Capitols 1774-1789
18x24 Poster

Chapter I
The Presiding Presidency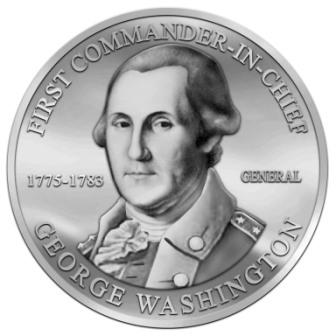 General George Washington
First Commander-in-Chief
June 16, 1775 to December 23, 1783
The origin of the U.S. Presidency can be traced back to the convening of the American Colonial Congress on September 5, 1774 when the delegates elected Peyton Randolph of Virginia as their President. Originally just called Congress, the word Continental was added to the name on October 20, 1774 in the Articles of Association primarily to distinguish this Congress from the many Congresses being held throughout the Colonies at that time.
<![if !supportEndnotes]>
<![endif]><![if !supportEndnotes]>
---
<![endif]>
SOLD OUT

Click Here For United States Court of Appeals Update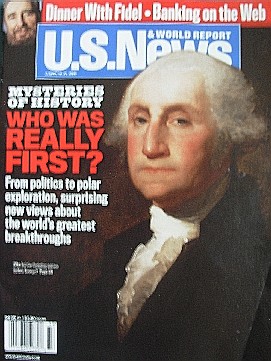 Is Mint snubbing real 1st president?
Rob Varon rvarnon@ctpost.com


Payable to: ROI.us Corporation | Suite 308 | 2706 Alternate 19 | Palm Harbor, Fl 34683
Tel: (727) 771-1776 | Fax: (813) 200-1820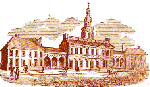 Estoric.com
"Pushing the Envelope"
428 Washington Ave
Carnegie, PA 15106
Office: 412-279-9060
Fax: 412-291-1838
Unauthorized Site: This site and its contents are not affiliated, connected, associated with or authorized by the individual, family, friends, or trademarked entities utilizing any part or the subject's entire name. Any official or affiliated sites that are related to this subject will be hyper linked below upon submission and Evisum, Inc. review.
Copyright© 2000 by Evisum Inc.TM. All rights reserved.
Evisum Inc.TM Privacy Policy